Hi Trev.
Just a comment on the banners on the top of each page now...
With the "Click for retail store" and the "Interested in Nitrous Oxide..." and the "Ryan Schnitz" stacked up they're so big that on a widescreen laptop running in 1280x720 they take up the whole screen. You can just see the yellow bar (forum, topics, posts, last post) but none of the threads! I appreciate you want to advertise
your
wares on
your
forum but this seems a tad over the top!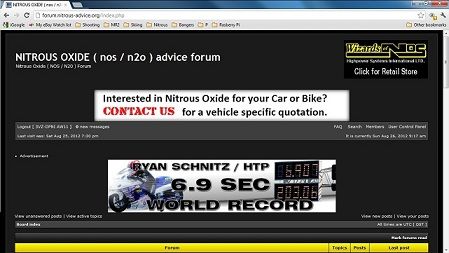 On an old fashioned 4/3 aspect ratio monitor running 1152x864 then the banners "only" take up 3/4 of the screen so there
is
room for 2 thread titles peeking out at the bottom.
I know we can scroll but a banner is supposed to be a strip along the top...
Cheers,
Owen.