This may be a little premature, but I'm confident, so I'll oust myself now.
My Celica went to the dyno today, in search of a world record 205+whp from the N/A 1.8 lump. Damnit, my £600 standalone ecu decided to spoil the show and died, so the world record had to be put on hold, but what I thought I'd bring to your attention in this thread is the potential of the engine.
When reading this thread, keep in mind, that I'm talking about power to the wheels, not a derived (ie, guessed!) 'bhp' figure. Also keep in mind that this is a high revving 1.8 litre 4 banger engine. The only competition are those damned Honda boys who go on forever ana day about how legendary the B18C5 engine is (mind you, it IS a terrific N/A motor
). For many years 200whp N/A on a 2ZZ-GE engine has been the unicorn of the celica community, but this year a couple of guys in the United States have managed to break that figure.
The precision by which your engine is assembled should not be overlooked for any of your thinking to get an engine build done!! So much power can be lost forever, if the right steps aren't taken in assembling the entire engine from tip to toe. Thankfully, mine seems to be a right hard-arse. My engine was built by sir Trev Langfield himself and it's no surprise that it's held together so strong thus far (so many 2zz engines mysteriously die after a rebuild
) and this baseline dyno below show how well it was put together.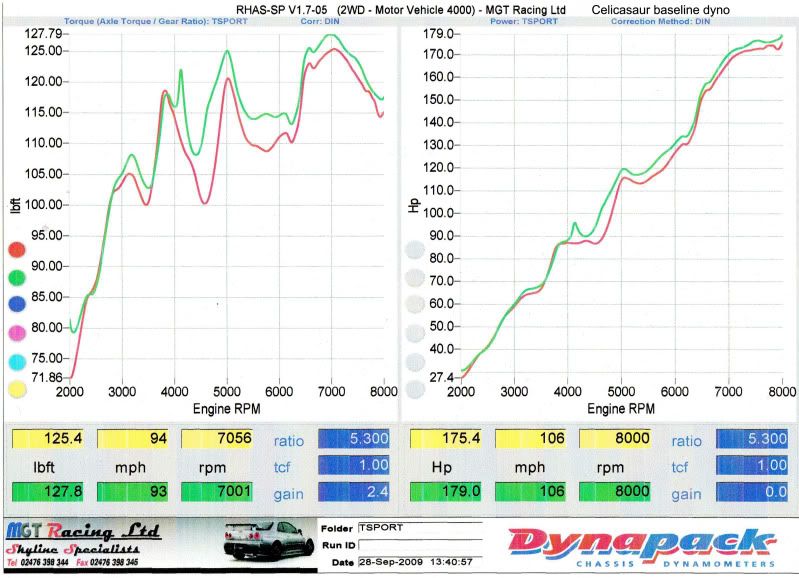 1hp short of 180 at the front wheels
This was on the stock ecu running uber rich (like, 10's at WOT
) and with none of the vvt or ignition timing optimised. I have no doubt that I'll (fingers crossed
) hit my target of at least 200whp N/A when I get my ecu fixed and the car mapped. For a general comparison, standard celica's in this country have seen ~145-150whp on the same dyno and a friends car that recently got mapped there, managed to gain little over 30whp from full tuning of the entire engine, resulting in a 176whp power figure. Yes, that's right - my engine on the standard ecu running crap, has outperformed another engine that's been fully tuned and with similar mods
Heck, I know somebody from the 'States who has an amazing intake manifold (the one thing my set up is missing) and even when fully tuned, he's only made 191whp...engine building precision is key.
Granted, I have the very best parts inside my engine, but I think that large credit should go to the guys that used their experience and expertise in putting it all together (ie, cutting new valve seats for me, porting the head, making sure the ring-bore clearance was 110% etc etc), so
thankyou Trev and Steve and well done!!!
:yes:
I'll keep you guys updated when I get it fully dyno tuned and if I manage to claim the world record. The goal for this car is to run low 13's N/A and low 12's with nitrous. Next month I 'hope' to have my nitrous system armed and ready to go in my car. Still lots to do, but I'm in no hurry and I've got the best in the business, right behind me
Here's a pointless vid of a dyno pull:
http://www.youtube.com/watch?v=5Vf4wLxtGRk